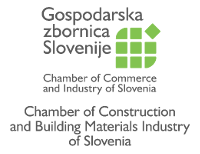 Chamber of Commerce and Industry of Slovenia (CCIS = slov. GZS). CCIS provides essential services for enterprises operating in Slovenia. By status it is chamber, employers organization and social dialogue partner. The CCIS was founded on 12th January 1851, as "Trgovska in obrtna zbornica za Kranjsko". CCIS has around 8,000 member companies of all sizes and from all sectors. It is Slovenia's most influential business association. 
Chamber of Construction and Building Materials Industry of Slovenia (CCBMIS, slov. ZGIGM) is a professional industry branch association (private non-profit organization employers organization) organized within the framework of CCIS. CCBMIS was founded in year 1952 and represents in year 2018 ca. 250 member companies and organizations, id. biggest construction companies, enterprises and construction institutes. CCBMIS takes positions and proposes policies relating to the position of the branch, to the sectoral social partners, to the legislative and government institutions as well as towards their domestic and international associations, promoting good sectoral practices, national social partner – employers organization. CCBMIS main mission, in the best interest of the Association's members, is to take positions and propose policies relating to the social partners, legislative and government institutions as well as towards their domestic and international associations. The Association assists its members by disseminating different sectoral information and data, providing various consultations, legislation questions, developing sectoral VET, enabling and fostering business opportunities, organizing sectoral trainings and events, as well as by representing and communicating members proposals. CCBMIS tasks are performed within the system of statutory authorisations vested in the Chamber in accordance with the relevant legislation. CCBMIS collects different statistical sectoral data, prepares different sectoral expert publications, sectoral templates of balanced contracts, issues regular newsletter and sectoral position papers. CCBMIS offers constant expert company support for different national and foreign issues. CCBMIS is via projects actively involved in many types of EU programmes and their different calls, addressing VET and adult training, with focus on IT and digitalization, sectoral innovations, single market policy (posting workers), developing sectoral social paritarian funds and other topics etc. CCBMIS is involved in H&S at work in construction companies, via different H&S projects (national and EU) and close cooperation with organization Occupational Safety and Health Chamber in Slovenia and supports the development of H&S and field legislation. CCBMIS is also an active FIEC member. CCBMIS provides relevant company data (public infrastructure and other investments plans, technology readiness of innovations) and realistic industry insight that supports several relevant priority areas, in particular smart communities, smart buildings. 
CCIS CCBMIS is a signatory of new national sectoral collective agreement (KPGD), published in Official Journal on 23.12.2015.